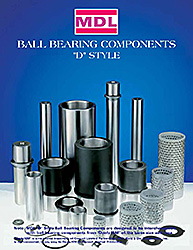 Q. Are MDL components interchangeable with any other manufactures components?
A. All "D" Style MDL components such as Ball Bearing and Plain Bearing Guiding Components, (including Bronze Plated and Graphite Impregnated Bushings), and Mechanical Springs are interchangeable with components from Danly/IEM*.
All "L" Style MDL components (Straight Ball Bearing Guide Pins, Straight Sleeve Ball Bearing Bushings, and Ball Cages) are interchangeable with components from Lamina**.
Q. How/Where can I place an order?
A. Many tool & die component distributors carry our parts, give us a call to locate one near you.
Q. A quality part at a good price sounds attractive, but what about delivery? Does MDL have these Guiding Components in stock?
A. You bet we do! Presently MDL has approximately 100 TONS of Ball Bearing and Plain Bearing inventory on our shelves. Additionally MDL ships over 95% of all orders received the same day.
Q. How can I get a catalog?
A. This is easy, just call us 1-800-574-0059, Fax us at 1-812-373-0042, or use the "Contact Us" section of this web site.
Q. What about hardware? Do I need to remember to order the necessary hardware? Will I be charged extra for hardware?
A. MDL doesn't believe in making the customer REMEMBER to order the appropriate hardware, and then CHARGING FOR IT when other components are ordered. Whenever a "D" Style Ball Bearing Guide Pin is ordered, a Type II Ball Cage Retainer Assembly is automatically included at NO ADDITIONAL CHARGE. Any "D" Style demountable Guide Pin or Bushing will be AUTOMATICALLY shipped with the appropriate FREE clamps and screws.
Q. What about part numbers? Will I need to learn a whole new part numbering system just to order one Guide Pin?
A. No. If you know what you want, you can use the Danly/IEM* or Lamina** part numbers to let us know what you want in your "Request for Quote" or "Purchase Order" and we will automatically translate the Danly/IEM* or Lamina** numbers into MDL numbers on all MDL paperwork. Whenever MDL part numbers are used there will also be a corresponding physical description of each part.